Click Here to break out of someone's frames!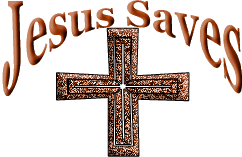 Philippians 1:6
"And I am sure that God who began the good work within you will keep on helping you grow in His
grace until His task within you is finally finished on that day when Jesus Christ returns.
.... The Living New Testament

Thank you for visiting my home. Listed below are the special Christian pages and links.
Enjoy your stay and please sign my guestbook. Also, don't forget to visit my "awards" page.
Designed for your homepage excellence. God bless you.






My special dedication page to my wife Mickey, and
one of her early insightful poems.




A Christian poem by my wife Mickey.




Christian resources and links




Thoughts for spiritual growth.




My wife Mickey at 9 years of age reflecting on her mother's wisdom.




A continuation of the reflections from Life--Part5.




The flowers, the Man, the book in my dreams. Luke 8




Web sites with great graphics and help tips.




My christian Banners made to be used freely on your site! (5 pages!)




Eternal Life through our Saviour Jesus Christ!




Christians grouping together for the work of the Gospel!




The banners on this page link to excellent christian Home Pages.




My special homepage awards available for your site.




Gifts from my friends across the internet. Thank you!

Updated 04/23/02